Live Public Engagement and Educational Seminar on Impact of Covid 19 Pandemic Happened on 22nd May at 2PM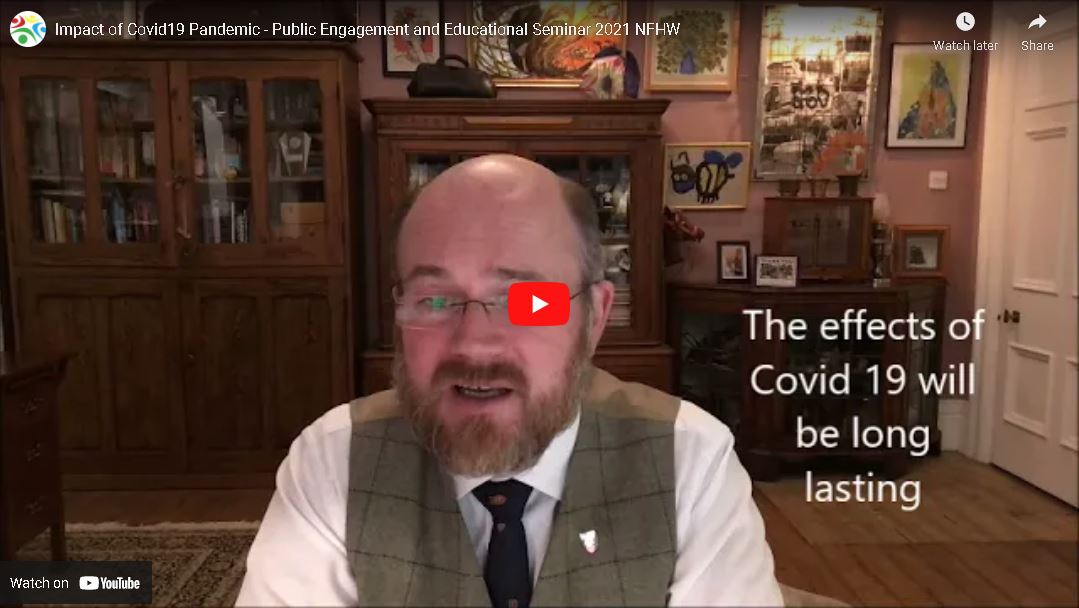 The COVID-19 pandemic has resulted in a dramatic loss of human life worldwide and presents an unprecedented challenge to public health as well as the world of work. The economic and social disruption caused by the pandemic is devastating. Despite best efforts to control, the pandemic has emerged in waves and lockdowns have happened repeatedly to prevent loss of lives and preserve the ability of the health system to deal with ill-stricken human beings. 
The Covid19 however is going to leave a lot of longer-lasting effects as well as deeper impacts which many of us aren't able to feel. National Forum for Health and Wellbeing has organised a Public Engagement and Educational seminar in the series to bring a variety of speakers to share their experience or expertise with us. Please encourage all your friends and colleagues to join us on 22nd May at 2 pm.
EMINENT SPEAKERS
Professor Calum Semple OBE PhD FRCPCH FRCPE FHEA—Chief guest and introductory speaker

Professor of Outbreak Medicine and Child Health, University of Liverpool Consultant respiratory Paediatrician, Alder Hey Hospital, Liverpool

Professor Maggie Rae PrFPH FRSPH FRCP(Hon)—–Guest of Honour

President, Faculty of Public Health UK and Visiting Professor of the University of South of England

Ms Karen Partington

Chief Executive, Lancashire Teaching Hospitals NHS Foundation Trust

Professor Romesh Gupta OBE MD FRCP MBA—-Chairman National Forum for Health & Wellbeing

Hon. Professor of Medicine, School of Medicine, University of Central Lancashire

Director, Centre for Research in Health and Wellbeing, University of Bolton

Professor Dominic Harrison

Director of Public Health Blackburn and Darwen and Hon. Professor in Public Health, University of Central Lancashire

Dr Richard Jenkins FRCP

Chief Executive Barnsley Foundation Hospital and Rotherham Foundation Hospital

Dr Rajeev Gupta MD FRCPCH MBA—National Forum for Health & Wellbeing

Consultant Paediatrician, Barnsley Hospital NHS Foundation Trust

Dr Mohammed Munavvar MD DNB FRCP FRCPE

Consultant Interventional Pulmonologist, Lancashire Teaching Hospitals NHS Foundation Trust

Hon. Senior Lecturer, University of Manchester

President, European Association of Bronchology and Interventional Pulmonologists

Dr Amit Taneja MD

Assistant Professor, Department of Pulmonology and Critical Medicine, Medical College of Wisconcin, USA

Dr Ashish Chaudhry MB,ChB MRCP(UK)

Covid-19 patient, General Practitioner and Clinical Lecturer University of Manchester

Dr Neelam Patel FRCA
Consultant Anaesthetist, Wigan,Wrightington and Leigh NHS Foundation Trust.

Dr Sharada Gudur MRCP

Consultant Respiratory Physician Lancashire Teaching Hospitals NHS Foundation Trust

Ms Jane Silver DIP HYP CS, DIP CP

Psychotherapist, Brain Health and Resilience Consultant

Mr Pyush Patel, Accountant

Covid-19 Patient, Lancashire

Ms Juia Riewald, Nutritional Practitioner

Covid-19 Patient, Yorkshire

Mr David Williamson

Covid-19 patient Cheshire

Bayo Igoh, Professional Coach

BAME Lead for Federation of Small Businesses