Professor Romesh Gupta graduated in India. After working as Associate Professor of Medicine in Canada he was, for nearly three decades, consultant physician at the Lancashire Teaching Hospitals NHS Foundation Trust where he led the stroke services and also served as a governor.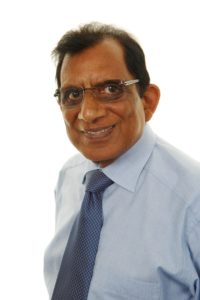 In addition to his work as consultant Romesh has always had a keen interest in medical professionalism and has collaborated with a wide range of organisations to take a leading role in fostering the personal and professional development of healthcare workers. These organisations include NHS Trusts, the Department of Health, the General Medical Council, the National Clinical Assessment Service, the Royal College of Physicians, the British Medical Association, the British International Doctors Association, and the British Association of Physicians of Indian Origin. Romesh has also served as a member of the Board of  Directors of the Preston and West Lancashire Racial Equality Council.
Romesh has a great interest in and enthusiasm for engaging the community in health promotion. He pioneered the Health Mela format, through the National Forum for Health and Wellbeing, as a means of empowering people to take charge of their own health. In 2000 he founded and has continuously chaired the National Forum for Health & Wellbeing since its formation in 2000. In the 2008 Queen's Birthday Honours list he was awarded the OBE for his services to medicine and the community of Lancashire.
Romesh's academic achievements have been widely recognized by, amongst others, the University of Bolton where he is honorary professor and Head of the Centre for Research into Health and Wellbeing  and by the University of Central Lancashire where he holds an honorary professorship in the School of Medicine.